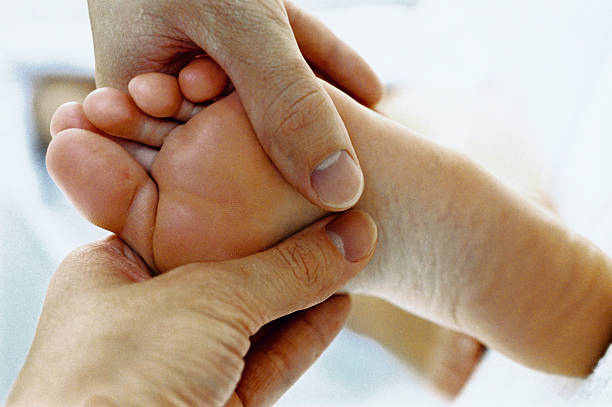 What is Podiatry?
Podiatry is the investigation, diagnosis and surgical therapy of diseases of the ankle, foot and leg. Podiatrists treat conditions like plantar fasciitis, nerve issues, foot disorders from diabetes, ankle and foot arthritis, flat feet, tendonitis, fungus, nail disorders and many more. New Step Podiatry in Canberra has an expert team of surgeons and physicians to treat people with a variety of mobility issues, infections of feet and lower legs and pain. We also have a very smooth process to deal with ingrown toenail treatment in Canberra.
New Step Podiatry Services:
Our team at the clinic initially do a diabetes foot risk assessment to perform the treatment required for it. For foot pain and pressure redistribution, we do an orthotic treatment. Proper wound management is also done at the clinic. During the diabetes foot risk assessment, we ask patients to provide their health history then we do an inspection and check their nerve functionality, circulation, musculoskeletal and footwear to educate them. We do a diabetes foot risk assessment after every 3 months. Our podiatrists provide professional ingrown toenail treatment Canberra to prevent associated pain, calluses, infections, corns and hyper granulation. An ingrown toenail can occur due to common reasons such as faulty toe posture, sweaty skin, toe deformities, the sharp edge of the nail left ignored and many others. Our podiatrists are skilled to cure this issue in several ways like trimming nail edges with proper equipment, careful removal of dry skin, silver nitrate application, oral antibiotics therapy, suitable toe dressing, topical antiseptics and many other ways. We also perform toenail dressing with a plastic device or smooth wire so that the nail can relocate in 4 to 6 weeks. It may also take 18 months based on the severity. We use local anaesthesia to do nail surgery in which the troubling nail part is removed. The nail doesn't grow back after the surgery and stitches are not required in this procedure. In foot and ankle pain management, we treat patients with superficial dry needling, foot and ankle mobilization techniques, myofascial cupping, orthotic therapy, massage, exercise prescription, taping and padding also. At New Step Podiatry we also perform children's podiatry in Canberra and its suburbs with great care and innovative equipment. Other skin and toenail treatments like fungal toenails, heel problems, verrucae, blistering, thick toenail, misshaped toenail, calluses and corns are cured here in a comfortable environment. Other treatments like the swift wart microwave application process and orthotic treatments are done at the clinic in a secure atmosphere with completely clean devices.
Book a session today:
New Step Podiatry is the best clinic of podiatry in Canberra and its suburbs. The skilled and experienced podiatrist delivers accurate and in-depth counselling to patients t deal with such issues. Consultation includes history taking, assessment, treatment, preventative care and summary. You need professional help for feet issues because this matter is serious and can cause more danger if treated without sterilized equipment. We have secured ingrown toenail treatment in Canberra, Belconnen and beyond.